Why do we need a Global Psoriasis Atlas?
The GPA is a long-term project that seeks to drive continuous improvement in the understanding of psoriasis and to uncover how it affects both the individual and society at large.  
This reliable resource on psoriasis was first published in 2019 and one of the key aims of the GPA website is to provide detailed, open-access information about the worldwide epidemiology of psoriasis. Our network of specialist dermatologists and international organisations around the world are working together to regularly update the GPA website.
 
The website contains data on the number of psoriasis cases in adults and children in every country of the world, healthcare data from Latin America and personal accounts of people with psoriasis worldwide.
The GPA four key research focus areas are:
''The Global Psoriasis Atlas brings together committed and enthusiastic colleagues from around the world who share a mission to understand the epidemiology of psoriasis. The Atlas will provide important data on the true burden of psoriasis and its cost to the individual and to society in each country around the world. In turn these data will be foundational to improve the best care of people with psoriasis, wherever they live, by highlighting unmet needs to health authorities, governments, payers, and regulators.''

Professor Chris Griffiths, GPA Director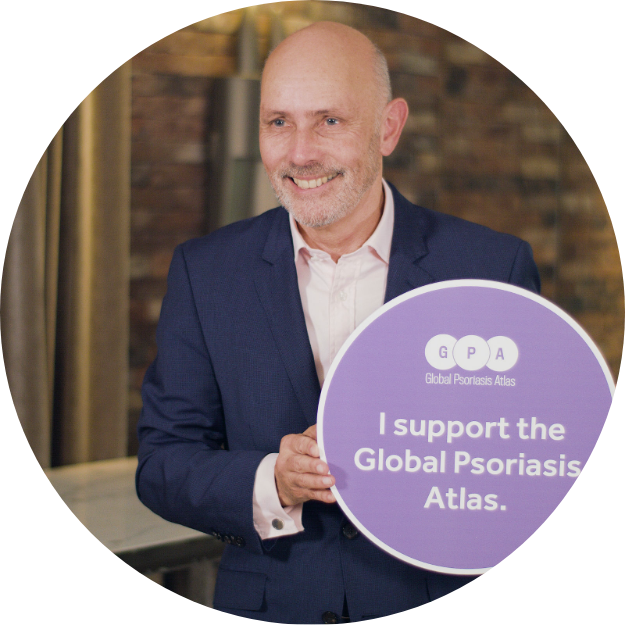 Mission
The mission of the GPA is to ensure that people with psoriasis have access to the best available care, wherever they live in the world.
Vision
The GPA will become the leading epidemiological resource on psoriasis globally, providing the common benchmark on the burden of psoriasis in all countries and regions throughout the world. The Atlas will seek to: drive continuous improvement in understanding the natural history of psoriasis, uncover how psoriasis affects the individual and society, improve healthcare for those living with the disease.
Values
Collaboration
Working together with respect and integrity.
Excellence
Delivering world class research.
Impact
Drive improvements in the understanding of the global burden of disease and access to care for psoriasis.