Quarterly Newsletter - July 2023 - Issue No. 19 - 25th World Congress of Dermatology Special
It was truly a pleasure to gather with so many of you in Singapore at the 25th World Congress of Dermatology in early July. In-person meetings hold incredible significance when it comes to fostering collaboration and strategic planning. I want to extend my gratitude to our Coordinators who dedicated their time to meet with us in Singapore, engaging in fruitful discussions about potential research opportunities in their respective regions.

Reflecting on our journey, during the 2019 Congress, we organised a press conference to launch the online Atlas. Now, in its seventh year, the GPA has made tremendous strides. Our presentations and exhibition stand at the 2023 Congress proudly showcased the myriad of key messages and research accomplishments we have achieved over the years. The true strength of the GPA lies in the invaluable connections we forge with patients and dermatologists around the world and the project has grown from strength-to strength, establishing fruitful collaborations in South Africa, Brazil, Indonesia, Malaysia, and many more countries.

A particularly memorable occasion during the Congress was the joint reception we hosted on the 4th of July, in collaboration with the Burma Skincare Initiative, IFPA, PsorAsia, and the International Psoriasis Council. The 69th-floor view of Singapore's cityscape provided a stunning backdrop as we listened to informative presentations from Dr Su Lwin (BSI), Christy Langan (IPC), Frida Dunger-Johnsson (IFPA), Paul Mendoza (PsorAsia), and myself (GPA). Thank you to everyone who joined us for a memorable evening.

Amidst all the excitement, I am delighted to share that Dr Teng-Chou Chen's paper, examining fertility trends in female patients in the UK, has been published in JAMA Dermatology. Equally noteworthy is the remarkable work of Professor Choon Siew Eng, in collaboration with Dr Alison Wright, looking into the incidence and prevalence of generalised pustular psoriasis in Malaysia, which has been published in the British Journal of Dermatology. Both publications are novel, impactful and exemplify the essence of GPA research.

With my best wishes,
Chris Griffiths
Professor Darren Ashcroft
GPA Research Director
It was a pleasure to meet face-to-face with so many of our collaborators at the 25th World Congress of Dermatology in Singapore last month. We presented several of our study findings at the Congress, and developed exciting plans for new work that we will take forward over the next three years. This includes new studies using the diagnostic training tool and we very much look forward to working with our Regional and National Coordinators on these initiatives.

At the Congress, presentations reported on the work we have recently completed with Professor Choon Siew Eng and her team examining the epidemiology of generalised pustular psoriasis in Malaysia, as well as our work with Professor Ricardo Romiti that has examined the epidemiology of psoriasis in indigenous inhabitants of Brazil. I was also pleased to present overviews on the GPA research programme and our achievements at both the Congress and the IFPA Member Meeting.

Alongside this, we have had some new papers published since my last research update. The first one reports on our findings examining the incidence and prevalence of generalised pustular psoriasis in Malaysia which has been published in the British Journal of Dermatology: https://academic.oup.com/bjd/advance-article/doi/10.1093/bjd/ljad158/7159128. This study presents for the first-time data on the epidemiology of generalised pustular psoriasis in south-east Asia, examining trends in the incidence and prevalence and how this varies by age, sex, and ethnicity.

Finally, we have also recently published findings from a cohort study examining fertility trends and adverse pregnancy outcomes in women with psoriasis in JAMA Dermatology. This study included 63,681 women with psoriasis and 318,405 age-matched comparators and the full publication can be freely accessed at the following site: https://jamanetwork.com/journals/jamadermatology/fullarticle/2805521
 
 
Exhibition Stand and Promotional Materials
At the WCD, we showcased our presence with an engaging exhibition stand, thoughtfully designed by David Webb. Staffed by a dedicated team – Programme Manager, Rebekah Swan; Administrator, Jade Kelly; and Research Fellow, Alison Wright – the stand served as a dynamic platform to display the culmination of key research messages achieved by the GPA over the years. Among the highlights were outcomes from several of our research collaborations, including those in Brazil, Chile, Tanzania, and Greenland. We also presented an assortment of promotional materials including an informative leaflet, a Funders' Brochure, and branded pens, bookmarks, and postcards.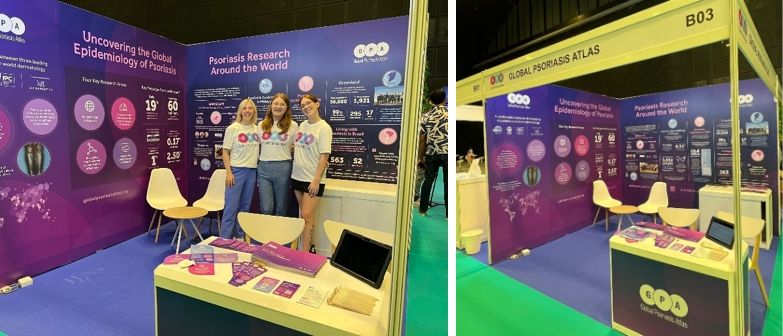 Training Tool Demonstration
In many countries around the world, psoriasis is misdiagnosed and unrecognised, leading to both inappropriate and delayed care. GPA PhD graduate, Dr Maha Abo-Tabik, used an e-Delphi consensus method amongst dermatology experts to establish a set of diagnostic criteria for chronic plaque psoriasis. Using these criteria, Maha Abo-Tabik developed a training tool for healthcare providers to help them identify chronic plaque psoriasis correctly. At our exhibition stand, we offered visitors the opportunity to experience the training tool first hand, utilising our tablets to showcase this ground-breaking solution aimed at improving psoriasis diagnosis worldwide.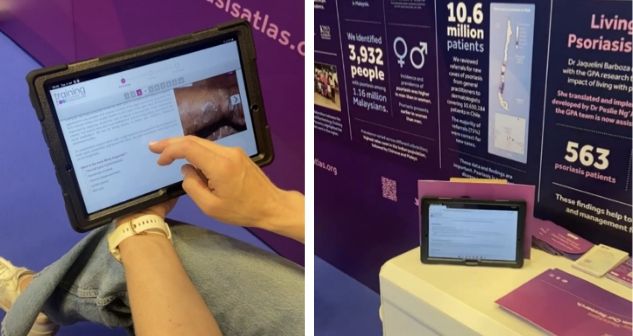 Supporting the GPA from Around the World
Our exhibition stand garnered a diverse array of visitors; among them were familiar faces - individuals who already knew about the GPA and approached us to say hello and offer their continued support. Additionally, we engaged with lots of individuals who were introduced to the GPA for the first time at the WCD and expressed interest in understanding the many ways in which they could get involved. Thank you to everyone who showed their support!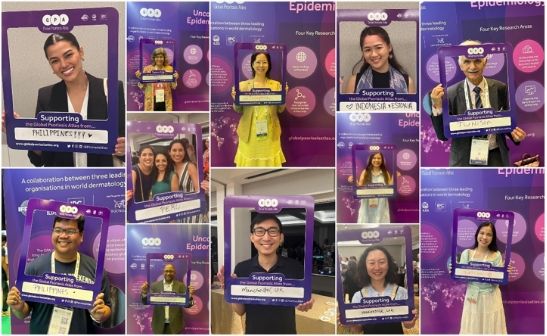 Joint Reception: Psoriasis Advocacy Global to Local

On Thursday 4th July from 6.30pm-9.00pm, the GPA hosted a networking reception along with members from four other esteemed organisations: Burma Skincare Initiative, IFPA, International Psoriasis Council, and PsorAsia. This event brought together international and local organisations, all united in a shared mission to improve the care for people with psoriasis. Held on the 69th floor of the Swissotel, the leaders from each organisation addressed the room and shared the work they are doing at local, national and global levels.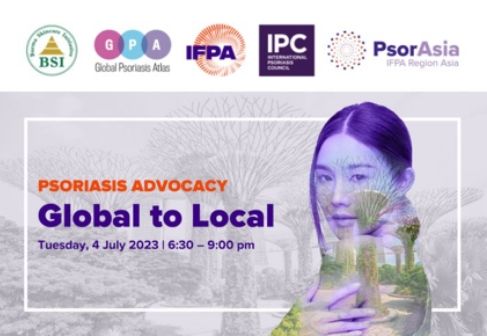 During our time in Singapore, we had a number of productive meetings with our international collaborators. We discussed trialling the diagnostic training tool in Egypt with Dr Mahira el Sayed, as well as in Indonesia with the Indonesian research team. We also caught up with Professor Ncoza Dlova (University of KwaZulu-Natal, South Africa) and Professor Carsten Flohr (King's College London, UK) to review plans for our trip to the Eastern Cape in December, where we will be conducting an epidemiological study of skin disease with a particular focus on psoriasis and atopic dermatitis.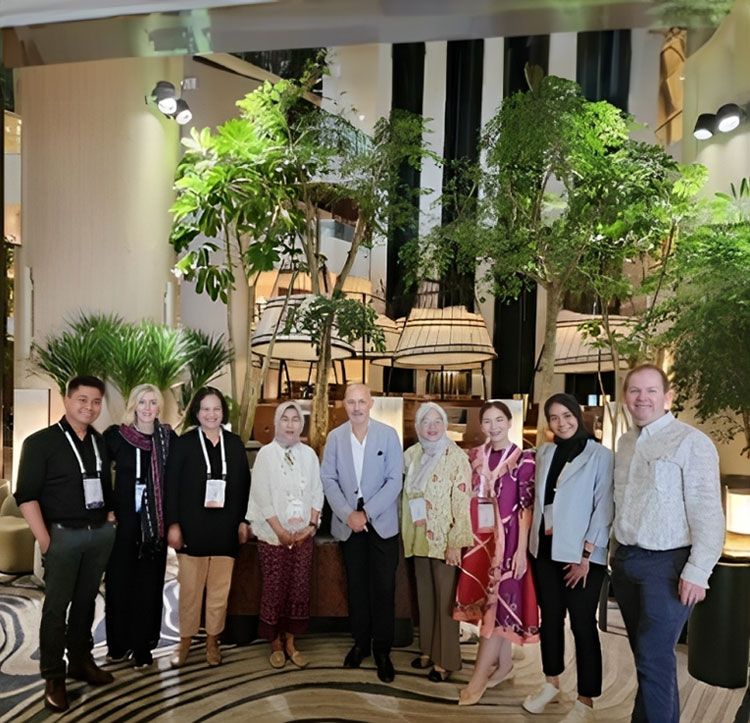 Chris, Darren, and Rebekah with the Indonesian research team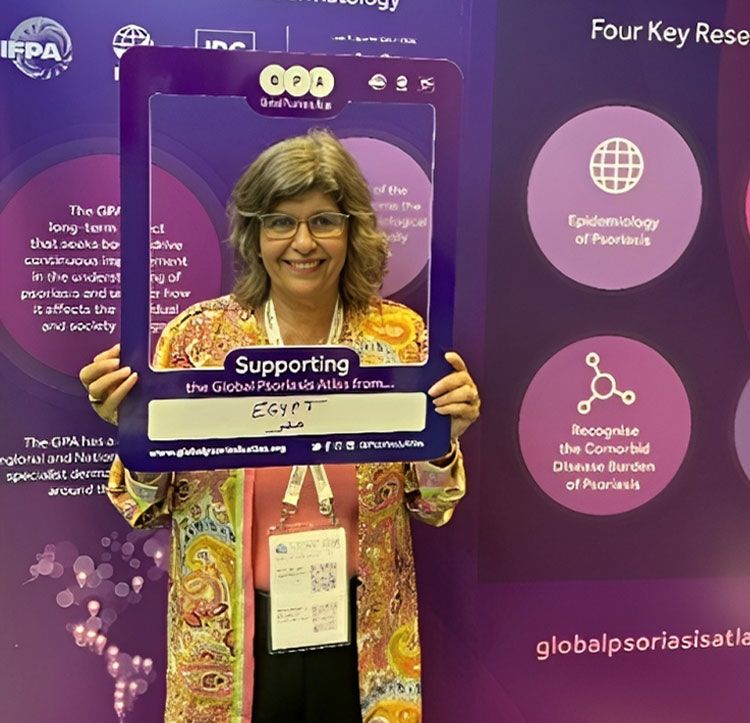 Professor Mahira el Sayed
Posters and Presentations
At the Congress, the GPA displayed several posters, including research led by Professor Choon Siew Eng and Dr Alison Wright. Their study focused on analysing the incidence and prevalence of generalised pustular psoriasis in Malaysia from 2010 to 2020. Dr Su Lwin's poster examining the GPA's methodology for psoriasis surveys in Tanzania and Greenland was also presented. Professor Darren Ashcroft presented an overview of the GPA's ongoing research, including our epidemiological studies in Taiwan and Malaysia, and Professor Ricardo Romiti, GPA Regional Coordinator, reported on the epidemiology of psoriasis in indigineous inhabitants in Brazil.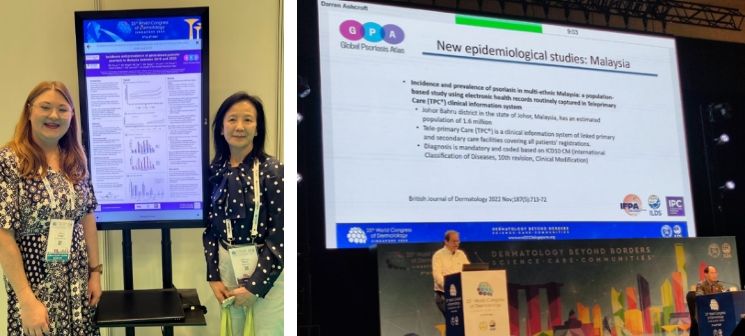 EADV Congress, Berlin – 11

th

-14

th

October 2023 – the GPA Steering Committee, Board and Funders Meetings will take place on Saturday 14

th

October